Welcome to 3rd and 4th grade!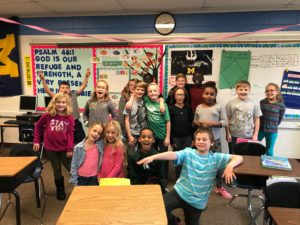 Want a look into what it's like to be in Miss Brandt's room? Check out this video of her 2017-2018 class! Click here
Announcements for the week of 3/18/19
***For all homework assignments, please follow this link. Check your child's Friday Folder for a paper copy.
***Please check your child's backpack on Fridays for their yellow Friday Folder. This contains papers I have graded from the past week, as well as other important information from the school such as the EFN and other class-related documents.
Hymn of the week for 3/18: LSB 435: Come to Calvary's Holy Mountain. Ask your child to teach you to sing this beautiful hymn or sing along with him or her!
Science: We will continue with our next science unit after we have finished Economics.
3rd Grade Math
We are now learning division! Continue working with your child on multiplication and division facts! One way you can help your child improve on these multiplication facts is by going through flash cards with them.  Cheap flashcards can be found at the Dollar Store. Throw them in your car for some quick math fact work on the way to school, church or a sports practice. These facts are the basis for so much that we do in math so working to help your child memorize these is very beneficial!
3rd grade Spelling
3/18: Lesson 22 pretest
3/22: Lesson 22 test
3rd grade lesson 16-25 spelling words
4th grade Spelling
3/18: Lesson 22 pretest
3/22: Lesson 22 test
4th grade lesson 16-25 spelling words
Memory:

Tuesday (3/19): Gal 2:20
Friday (3/22):  Baptism Part 4
---
Get To Know Miss Brandt!
Favorite Bible verse: "Cast all your anxiety on Him because He cares for you." 1 Peter 5:7
Baptismal Birthday: August 6th
Favorite food: Tacos
Favorite animal: Kittens
Favorite sports team: Detroit Tigers
Michigan or Michigan State?: Michigan! Go Blue!
Favorite book: The Plant That Ate Dirty Socks by Nancy McArthur